Tinker, Roofer, Shower, Builder
Multimedia instalation, 2021
Focus is on the colonies of unlawfully built housing developments around Premantura, the southernmost village in the county of Istria. The framework consists in the so-called 'trick for camera', that is the strategy used by weekenders to simulate the solidity of their constructions for areal footage.


In the year of 2012 the Building Act on Illegal Housing was enacted, popularly called the act on legalisation. According to this law, all the objects photographed from air for the official orthophoto representation, and in this way proven solid, are eligible to apply for the building permit. In the same year the territory is photographed from air and the footage is compared with the submitted applications. For the owners of lots in the Southern Istria this presents an opportunity to transform their RVs into proper weekend houses. Therefore, in an overnight they mount the roofs or canopies on their RVs, and they build the walls from different material and plaster them. All of that only to imitate the solid buildings and to trick the areal footage. The grey area of the law allowed for the majority of owners to legalise their weekend houses, whereas the 'know-how to' word spread among neighbours. Soon after the owners continue to gradually extend their houses in secret over the weekends. They would use various materials, arrange the details and plant the garden. They would even fance in the passageways and privatize paths leading to beach.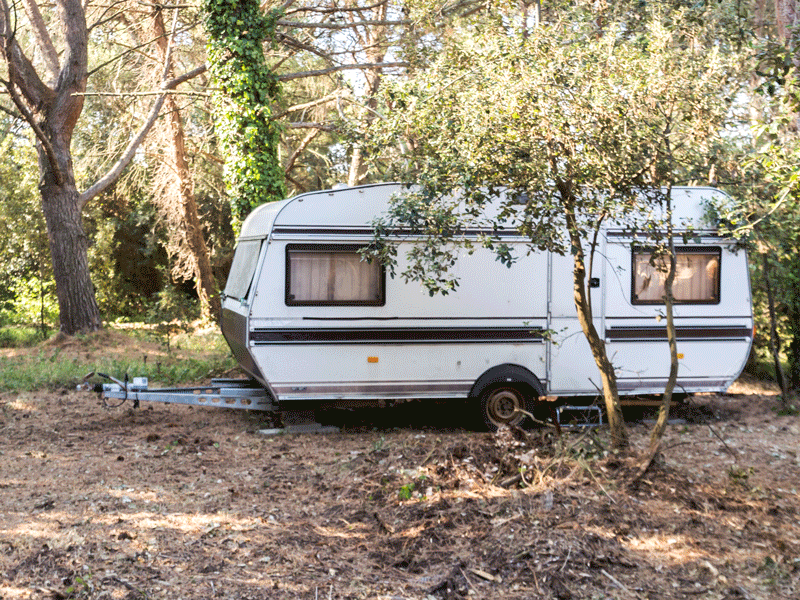 The model is used to show the process of gradual expansion of the RVs – the walls, the roof and the garden. (videostill)


In situ (videostillovi) We hold the tarpaulin with print in order to simulate the roof for the areal footage. (videostill)


We are trying to find the location, a place among other weekenders, we carry around the front of a RV in the life-size. (videostill)


Another video that combines the documentary footage of houses and the models of houses in the real environment with the footage of models filmed in the studio using greenscreen, ventually added to the scenery in the postproduction.